Adele Geras was born in Jerusalem on March 15, 1044. She studies French and Spanish at St. Hilda's in Oxford. In her varied career she has been a singer, an actress and a writer. Voyage is a story about a Jewish family moving to the United States from a Europe that made them feel threatened. It is also a story of survival against the odds.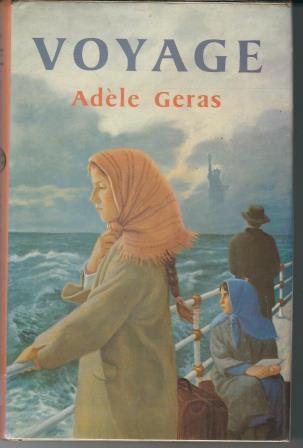 Book Review:
Adele Geras - Voyage
These settlers were both running away from something and running to something. What they were running from was their past and they wanted a new future. This is history repeating itself. And why?

Book Condition:
Ex Library Slight damage to lower spine area (see pic) Good in Cellophane covered DW
Hamish Hamilton Hardback 1983 1st Edition
Book Weight: 332g
Book Type:
Young Adult Fiction
ISBN 0241109884




Buy Now for €2.00 + Post and Packing Using Paypal as a safe and secure method of payment
Delivered Price
| | | |
| --- | --- | --- |
| Post and Packing to within IRELAND(incl NI) | Postage Cost €6.20 | Total Cost €8.20 |
| Post and Packing to Great Britain | Postage Cost €9.00 | Total Cost €11.00 |
| Post and Packing to EUROPE | Postage Cost €11.00 | Total Cost €13.00 |
| Post and Packing to Australia/New Zealand | Postage Cost €22.50 | Total Cost €24.50 |
| Post and Packing to Rest of the World | Postage Cost €15.00 | Total Cost €17.00 |

To Buy Now click on required destination field from drop-down menu below and then click on 'Add to Cart'