Aine Miller is a poet from Cork City. Miller was educated in University College, Cork, and Trinity College Dublin.
Goldfish in a Baby Bath
won her the Patrick Kavanagh Award in 1992.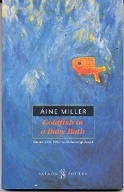 Book Review:
Aine Miller - Goldfish in a Baby Bath
This collection won Aine the 1992 Patrick Kavanagh Award.
In this collection Aine manages to pick out the unusual from the very usual, making discoveries that will surprise you.
Book Condition:
Very slight wear to covers otherwise Good Copy
Salmon Paperback 1994
Book Weight: 130g
Book Type:
Poetry
ISBN 1897648111

Buy Now for €3.25 + Post and Packing Using Paypal as a safe and secure method of payment
Delivered Price
| | | |
| --- | --- | --- |
| Post and Packing to within IRELAND(incl NI) | Postage Cost €2.60 | Total Cost €5.85 |
| Post and Packing to Great Britain | Postage Cost €5.00 | Total Cost €8.25 |
| Post and Packing to EUROPE | Postage Cost €5.50 | Total Cost €8.75 |
| Post and Packing to Australia/New Zealand | Postage Cost €9.00 | Total Cost €12.25 |
| Post and Packing to the Rest of the World | Postage Cost €8.00 | Total Cost €11.25 |

To Buy Now click on required destination field from drop-down menu below and then click on 'Add to Cart'