Alan Hollinghurst was born in Gloucestershire, England on May 26, 1954. Hollinghurst is a poet, short story writer and a novelist, He won the 2004 Man Booker Prize for 'The Line of Beauty'. The Folding Star is his second novel, published in 1994. It won the James Black Memorial Prize and was short-listed for the 1994 Booker Prize.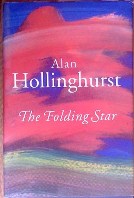 Book Review:
Alan Hollinghurst - The Folding Star
This is the story of love lost and found. Of reconcilliations with the past and oneself.
Book Condition:
Very Good In Very Good DW
Chatto & Windus Hardback 1994
Book Weight: 872g ISBN 0701159138
Book Type:
Fiction

Buy Now for €5.00 + Post and Packing Using Paypal as a safe and secure method of payment
Delivered Price
| | | |
| --- | --- | --- |
| Post and Packing to within IRELAND(incl NI) | Postage Cost €7.50 | Total Cost €12.50 |
| Post and Packing to Great Britain | Postage Cost €12.50 | Total Cost €17.50 |
| Post and Packing to EUROPE | Postage Cost €14.50 | Total Cost €19.50 |
| Post and Packing to Australia/New Zealand | Postage Cost €27.00 | Total Cost €32.00 |
| Post and Packing to Rest of the World | Postage Cost €21.00 | Total Cost €26.00 |

To Buy Now click on required destination field from drop-down menu below and then click on 'Add to Cart'