Edward de Bono was born in Malta on May 19, 1933. He is a psychologist, physician, author and consultant. He is a professor at a number of universities and he consults and educates widely with governments, the corporate sector and schools and universities.
Teaching Thinking
lays down the groundwork for his philosophy. He has published 57 books.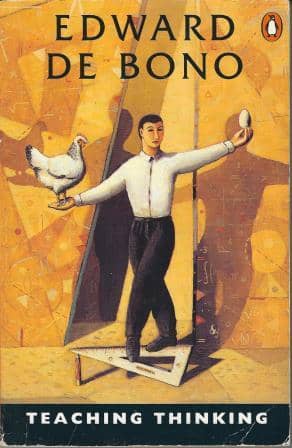 Book Review:
Edward de Bono - Teaching Thinking
In this book Edward de Bono propounds the skill of thinking as a necessity of the future.
Book Condition:
Slight wear to covers and browning to edges Good Copy
Penguin Paperback 1991 Reprint
Book Weight: 210g
ISBN 0140137858
Book Type:
Psychology


Buy Now for €2.00 + Post and Packing Using Paypal as a safe and secure method of payment
Delivered Price
| | | |
| --- | --- | --- |
| Post and Packing to within IRELAND(incl NI) | Postage Cost €3.50 | Total Cost €5.50 |
| Post and Packing to Great Britain | Postage Cost €6.50 | Total Cost €8.50 |
| Post and Packing to EUROPE | Postage Cost €7.00 | Total Cost €9.00 |
| Post and Packing to Australia/New Zealand | Postage Cost €13.00 | Total Cost €15.00 |
| Post and Packing to the Rest of the World | Postage Cost €10.00 | Total Cost €12.00 |

To Buy Now click on required destination field from drop-down menu below and then click on 'Add to Cart'