Elise Broach was born on September 20, 1963 in Atlanta, Georgia, USA. Desert Crossing is her second book.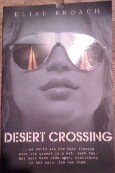 Book Review:
Elise Broach - Desert Crossing
There are moments which are definitive in your life and one of these moments occur for Lucy Martinez
while on a long road trip with her brother, Jamie, and his friend, Kit. After this moment nothing is the same again.

Book Condition:
Good Clean Copy
Walker Books Paperback 2006
Book Weight: 250g
Book Type:
Fiction Novel
ISBN 9781406303681



Buy Now for €2.00 + Post and Packing Using Paypal as a safe and secure method of payment
Delivered Price
| | | |
| --- | --- | --- |
| Post and Packing to within IRELAND(incl NI) | Postage Cost €6.20 | Total Cost €8.20 |
| Post and Packing to Great Britain | Postage Cost €9.00 | Total Cost €11.00 |
| Post and Packing to EUROPE | Postage Cost €11.00 | Total Cost €13.00 |
| Post and Packing to Australia/New Zealand | Postage Cost €22.50 | Total Cost €24.50 |
| Post and Packing to Rest of the World | Postage Cost €15.00 | Total Cost €17.00 |

To Buy Now click on required destination field from drop-down menu below and then click on 'Add to Cart'