Emma Cooke was born in Portarlington, Co. Laois, Ireland in 1934. She achieved a diploma in philosophy in Mary Emmaculata College in Limerick.
A winner of Francis MacManus award with the story 'An Internation Incident'. Cooke has published four books.
A Single Sensation
is about the dilemma faced by very many women in the seventies and beyond in Ireland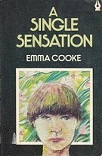 Book Review:
Emma Cooke - A Single Sensation
This novel is about a girl from a middle-class midlands family in the seventies
whose unwanted pregnancy brings her face to face with the awful dilemma which some 10,000 unmarried Irish girls every year
solve by making a tragic journey to Britain.
Book Condition:
Some wear to covers and browning to pages Reaging Copy
Poolbeg Press Paperback 1981
Book Weight: 120g
ISBN 0905169441
Book Type:
Irish Fiction
Delivered Price
| | | |
| --- | --- | --- |
| Post and Packing to within IRELAND(incl NI) | Postage Cost €2.60 | Total Cost €4.60 |
| Post and Packing to Great Britain | Postage Cost €5.00 | Total Cost €7.00 |
| Post and Packing to EUROPE | Postage Cost €5.50 | Total Cost €7.50 |
| Post and Packing to Australia/New Zealand | Postage Cost €9.00 | Total Cost €11.00 |
| Post and Packing to Rest of the World | Postage Cost €8.00 | Total Cost €10.00 |

To Buy Now click on required destination field from drop-down menu below and then click on 'Add to Cart'