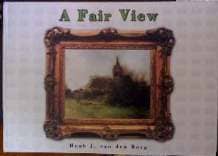 Book Review:
Henk J van den Berg - A Fair View
This is a review of Dutch Painting, perhaps not by the Masters but of interest as it is intertwined with comments on Queen Beatrix and on Dutch life in general.
With 30 full colour plates and a review of each picture. This is a fascinating book to augment the interest in the more celebrated colleagues of the Netherlands.

Book Condition:
No Dw Otherwise Good Condition
Fairfacts Hardback No Date
Book Weight: 410g
Book Type:
Art Book


Buy Now for €4.00 + Post and Packing Using Paypal as a safe and secure method of payment
Delivered Price
| | | |
| --- | --- | --- |
| Post and Packing to within IRELAND(incl NI) | Postage Cost €6.20 | Total Cost €10.20 |
| Post and Packing to Great Britain | Postage Cost €9.00 | Total Cost €13.00 |
| Post and Packing to EUROPE | Postage Cost €11.00 | Total Cost €15.00 |
| Post and Packing to Australia/New Zealand | Postage Cost €22.50 | Total Cost €26.50 |
| Post and Packing to Rest of the World | Postage Cost €15.00 | Total Cost €19.00 |

To Buy Now click on required destination field from drop-down menu below and then click on 'Add to Cart'