Iain Aitch is an author and journalist from Margate in England. Aitch has two books published. A Fete Worse Than Death ia a book about a journey throughout Britain in comic style. We're British, Innit, another humorous but factual based book. Aitch also writes for The Guardian and The Daily Telegraph and a number of magazines including Dwell and Bizarre.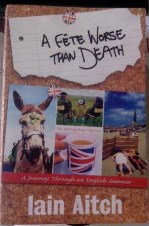 Book Review:
Iain Aitch - A Fete Worse Than Death
Iain Aitch book is a Travel writer who wrote A Fete Worse Than Death.
This is an insightful look at what it is like to be British, not what it should be like, but what it is like.
Book Condition:
Slight wear to covers Good Copy
Review Paperback 2004
Book Weight: 230g
ISBN 0755311914
Book Type:
Travel

Buy Now for €2.00 + Post and Packing Using Paypal as a safe and secure method of payment
Delivered Price
| | | |
| --- | --- | --- |
| Post and Packing to within IRELAND(incl NI) | Postage Cost €6.20 | Total Cost €8.20 |
| Post and Packing to Great Britain | Postage Cost €9.00 | Total Cost €11.00 |
| Post and Packing to EUROPE | Postage Cost €11.00 | Total Cost €13.00 |
| Post and Packing to Australia/New Zealand | Postage Cost €22.50 | Total Cost €24.50 |
| Post and Packing to Rest of the World | Postage Cost €15.00 | Total Cost €17.00 |

To Buy Now click on required destination field from drop-down menu below and then click on 'Add to Cart'