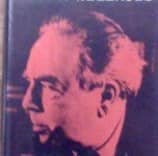 J B Priestley was born in Manningham in Bradford, England in September 1894 He died in August 1984. Priestley left work aged sixteen and found work in a wool firm. He joined the Labour Party and wrote a column for their paper the Bradford Pioneer. He served on the Western Front in the trenches and later in the Battle of Loos. He suffered a gas attack and was deemed unfit for service, transferred to the Entertainers Section of the British Army. Priestley wrote extensively on fiction,literary criticism, drama, social sciences, travel books and autobiography, Margin Released is an autobiographical book with the subtitle, Reminiscences and Reflections.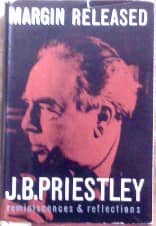 Book Review:
J B Priestley - Margin Released
J B Preistly has had a prestigious output of work.
Here he describes his craft with adeptness and style.

Book Condition:
Good Condition
Reprint Society Hardback 1963
Book Weight: 290g
Book Type:
Literary Criticism
ISBN 0747240434


Buy Now for €2.95 + Post and Packing Using Paypal as a safe and secure method of payment
Delivered Price
| | | |
| --- | --- | --- |
| Post and Packing to within IRELAND(incl NI) | Postage Cost €6.20 | Total Cost €9.15 |
| Post and Packing to Great Britain | Postage Cost €9.00 | Total Cost €11.95 |
| Post and Packing to EUROPE | Postage Cost €11.00 | Total Cost €13.95 |
| Post and Packing to Australia/New Zealand | Postage Cost €22.50 | Total Cost €25.45 |
| Post and Packing to Rest of the World | Postage Cost €15.00 | Total Cost €17.95 |

To Buy Now click on required destination field from drop-down menu below and then click on 'Add to Cart'
BuIk Buying. I can combine orders at the following rates.
Allow 5% of weight for packaging. Email me at aidansonlinebooks@gmail.com (Use Get More Information button at top of page) for more details.
| | Up to 3Kg | Up to 4Kg | Up to 5Kg | Up to 10Kg |
| --- | --- | --- | --- | --- |
| Throughout Ireland(incl N.I.) | €7.50 | €7.50 | €7.50 | €7.50 |
| To Great Britain | €21.00 | €23.00 | €23.00 | - |
| To Rest of Europe | €21.00 | €28.50 | €34.00 | - |
| To New Zealand & Australia | €55.00 | €70.00 | €85.00 | - |
| To Rest of World | €38.00 | €46.00 | €54.00 | - |