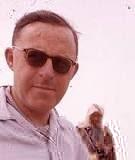 John Marco Allegro was born in Balham, London in February 1923. Allegro was an archaeologist and expert on the Dead Sea Scrolls.He wrote books and presented radio programmes on the subject. Allegro became embroiled in controversy as his interpretation of the scrolls did not fall in favour with his colleagues. A Further exasperation came from his publication of 'The Sacred Mushroom and the Cross'. This was a bridge too far as far as his job as professor was concerned. Dead Sea Scrolls - A Reappraisal is an account of Allegro's findings.

Book Review:
J M Allegro - Dead Sea Scrolls A Reappraisal
In 1947 an Arab shepherd found several ancient scrolls in a cave. They were found to be from around the time of Christ and shed light on Jewish sectarianism of the time.
Book Condition:
Small tear on cover and browning to edges otherwise Good Copy
Penguin Paperback 1990 Reprint
Book Weight: 175g
Book Type:
Religion
ISBN:0140134573

Buy Now for €2.00 + Post and Packing Using Paypal as a safe and secure method of payment
Delivered Price
| | | |
| --- | --- | --- |
| Post and Packing to within IRELAND(incl NI) | Postage Cost €4.80 | Total Cost €6.80 |
| Post and Packing to Great Britain | Postage Cost €8.00 | Total Cost €10.00 |
| Post and Packing to EUROPE | Postage Cost €9.00 | Total Cost €11.00 |
| Post and Packing to Australia/New Zealand | Postage Cost €18.00 | Total Cost €20.00 |
| Post and Packing to Rest of the World | Postage Cost €12.00 | Total Cost €14.00 |

To Buy Now click on required destination field from drop-down menu below and then click on 'Add to Cart'