Jean Dominique Bauby was born on April 23, 1952. Jean Dominique Bauby was an accomplished actor and editor of the French magazine Elle. He had everything to look forward to with his wife and two children and a successful career ahead of him. But one day he had a stroke. The type of stroke he had left his mental capabilities in tact but rendered his physical body completely immobile. With the help of an assistant, Claude Mendibil, he was able to dictate the entire book,
The Diving-Bell and the Butterfly
, through a system of affirmation. Claude would recite the alphabet and Jean would stop him when he came to the letter he wanted. This would have been exhaustive for both of them to complete an entire book, letter by letter. Jean Dominique Bauby died two days after the book was published on March 7, 1997.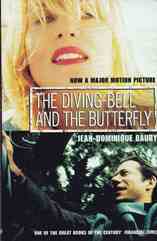 Book Review:
Jean Dominique Bauby - Diving-Bell and the Butterfly
This is the story of a man, parolysed from a stroke who , through sheer will power, was able to invent a life for himself in the most appaling circumstances.
Book Condition:
Some wear to covers otherwise Good Copy
Harper Perennial Paperback 2008 Reprint
Book Weight: 121g
ISBN 9780007139842
Book Type:
Autobiography



Buy Now for €2.00 + Post and Packing Using Paypal as a safe and secure method of payment
Delivered Price
| | | |
| --- | --- | --- |
| Post and Packing to within IRELAND(incl NI) | Postage Cost €2.60 | Total Cost €4.60 |
| Post and Packing to Great Britain | Postage Cost €5.00 | Total Cost €7.00 |
| Post and Packing to EUROPE | Postage Cost €5.50 | Total Cost €7.50 |
| Post and Packing to Australia/New Zealand | Postage Cost €9.00 | Total Cost €11.00 |
| Post and Packing to the Rest of the World | Postage Cost €8.00 | Total Cost €10.00 |

To Buy Now click on required destination field from drop-down menu below and then click on 'Add to Cart'