Jeremy Clarkson is a broadcaster, journalist and often-times humorist. Clarkson presented Top Gear, a BBC presentation on motoring, alongside Richard Hammond and James May. This was until his sacking for assaulting a producer. He also writes for the Sunday Times. Since then he has taken up the mantle of presenter of Who Wants to be a Millionaire?. Jeremy Clarkso was born on April 11, 1960 in Doncaster, United Kingdom. Born to be Riled is a selection of articles from his newspaper articles dealing with subjects outside the realm of motoring.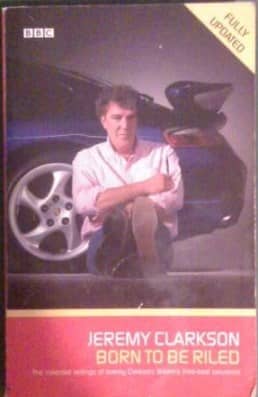 Book Review:
Jeremy Clarkson - Born to be Riled
Jeremy Clarkson at his funny and mischiefeous best writing abaout various subjects.
Clarkson strays away from the motoring guides to relay his thoughts on the G6 Summit girlpower and the like.
Book Condition:
In Good Condition
BBC Paperback 1999
Book Weight: 300g
ISBN 0563538163
Book Type:
Humour Book/Journalism

Buy Now for €2.00 + Post and Packing Using Paypal as a safe and secure method of payment
Delivered Price
| | | |
| --- | --- | --- |
| Post and Packing to within IRELAND(incl NI) | Postage Cost €6.20 | Total Cost €8.20 |
| Post and Packing to Great Britain | Postage Cost €9.00 | Total Cost €11.00 |
| Post and Packing to EUROPE | Postage Cost €11.00 | Total Cost €13.00 |
| Post and Packing to Australia/New Zealand | Postage Cost €22.50 | Total Cost €24.50 |
| Post and Packing to Rest of the World | Postage Cost €15.00 | Total Cost €17.00 |

To Buy Now click on required destination field from drop-down menu below and then click on 'Add to Cart'