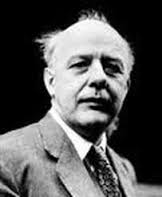 John Betjeman was born on August 28, 1905, and died on May 19, 1984, John Betjeman described himself as a poet and a hack in Who's Who. Betjeman started his career as a journalist and progressed through to television. Betjeman was a founding member of the Victorian Society. School was at Byron House and Highgate School where T S Eliot was his teacher. At Magdalen College his tutor was C S Lewis whom he did not like, saying Lewis was "Uninspired as a teacher". Betjamin was to leave Magdalen College without a degree after failing the PASS SCHOOL.
He worked as a film critic for the Evening Standard. From 1930 to 1935 he was assistant editor for the Architectural Review, where he had indulged one of his other passions, Victorian Architecture. Betjeman became British Press atache in Dublin, Ireland in 1941. There, he befriended Patrick Kavanagh Benjeman became Poet Laureate of the United Kingdom in 1972. Continual Dew was published in 1937. See also the biography of John Betjeman by Bevis Hillier.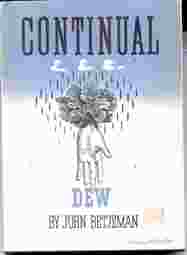 Book Review:
John Betjeman - Continual Dew
Containing the much maligned poem SLOUGH this book of poems has also been called a Little book of bourgeois poetry.
It also includes the poem `The Arrest of Oscar Wilde at the Cadogan Hotel`.
Book Condition:
Very Good in Slightly worn Dw
John Murray 1977 Facsimile Edition
Book Weight: 233g
Book Type:
Poetry
Delivered Price
| | | |
| --- | --- | --- |
| Post and Packing to within IRELAND(incl NI) | Postage Cost €6.20 | Total Cost €9.15 |
| Post and Packing to Great Britain | Postage Cost €9.00 | Total Cost €11.95 |
| Post and Packing to EUROPE | Postage Cost €11.00 | Total Cost €13.95 |
| Post and Packing to Australia/New Zealand | Postage Cost €22.50 | Total Cost €25.45 |
| Post and Packing to Rest of the World | Postage Cost €15.00 | Total Cost €17.95 |

To Buy Now click on required destination field from drop-down menu below and then click on 'Add to Cart'