Michael Bond was the author of the Paddington books for children. Michael Bond was born on January 13, 1926 in Newbury, England, and died on June 27, 2017 in Paddington, London,England.
Michael Bond wrote the children's book series, Paddington. The idea of a small bear changed his life forever.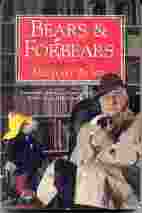 Book Review:
Michael Bond - Bears and Forebears
Since an auspicious day in 1957, when Michael Bond came up with an idea for a children`a story,
his life has been dominated by a small, duffle-coat wearing, marmalade-loving bear. Paddington bear has had a formative influence on millions of other lives since then and has remained a constant source of inspiration to his creator. But Paddington is just one in a whole range of characters - human and imaginary - who have shared Michael Bond`s life. Autobiography.

Book Condition:
Slight wear to covers otherwise Good Copy.
HarperCollins Paperback Reprint
Book Weight: 250g
ISBN 0006387713
Book Type:
Autobiography



Buy Now for €2.00 + Post and Packing Using Paypal as a safe and secure method of payment
Delivered Price
| | | |
| --- | --- | --- |
| Post and Packing to within IRELAND(incl NI) | Postage Cost €6.20 | Total Cost €8.20 |
| Post and Packing to Great Britain | Postage Cost €9.00 | Total Cost €11.00 |
| Post and Packing to EUROPE | Postage Cost €11.00 | Total Cost €13.00 |
| Post and Packing to Australia/New Zealand | Postage Cost €22.50 | Total Cost €24.50 |
| Post and Packing to Rest of the World | Postage Cost €15.00 | Total Cost €17.00 |

To Buy Now click on required destination field from drop-down menu below and then click on 'Add to Cart'