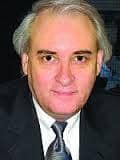 Paul Alexander edited Ariel Ascending, a book about Sylvia Plath. This encouraged him to write his own book about her, Rough Magic. Alexander continued his writing career with articles on Andy Warhol in The Village Voice and New York and this culminated in his book on Warhol "Death and Disaster: The Rise of Warhol's Empire and the Race for Andy's Millions." A biography of James Dean, Boulevard of Broken Dreams was published in 1994 and became a top seller in the US. Alexander wrote three political books on John Kerry, John McCain and Carl Rove. His journalism has appeared in numerous publications from the New Yorker to the Guardian. He has also had a career in broadcasting.

Book Review:
Paul Alexander - Boulevard of Broken Dreams
No more than a promising actor with a handful of films to his name when he died in 1955, James Dean has since been elevated to an iconic status surpassed only by Elvis Presley and Marilyn Monroe. This book draws on new and documented sources to reveal to truth behind the myths.
Book Condition:
Slight wear to covers otherwise Very Good Copy
Warner Bros Paperback 1995 Reprint
Book Weight: 260g
Book Type:
Biography of James Dean
ISBN:0751512826

Buy Now for €2.00 + Post and Packing Using Paypal as a safe and secure method of payment
Delivered Price
| | | |
| --- | --- | --- |
| Post and Packing to within IRELAND(incl NI) | Postage Cost €6.20 | Total Cost €8.20 |
| Post and Packing to Great Britain | Postage Cost €9.00 | Total Cost €11.00 |
| Post and Packing to EUROPE | Postage Cost €11.00 | Total Cost €13.00 |
| Post and Packing to Australia/New Zealand | Postage Cost €22.50 | Total Cost €24.50 |
| Post and Packing to Rest of the World | Postage Cost €15.00 | Total Cost €17.00 |

To Buy Now click on required destination field from drop-down menu below and then click on 'Add to Cart'