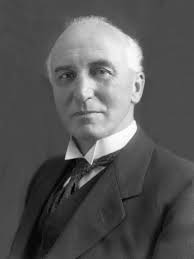 Viscount Simon was very prominent in English politics for most of the first half of the twentieth century.
This spanned the passing the Parliament Bill of 1911, the General Strike of 1926, and the events leading up to "Munich 1938" to name a few.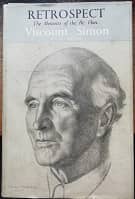 Book Review:
Viscount Simon - Retrospect
This is the memoir of a powerful figure who was Attorney General, Home Secretary (twice),
Chancellor of the Exchequer and Forein Secretary throughout tumultous periods during the first half of the 20th century.
Book Condition:
Very Good in slightly worn dustwrapper
Hutchinson Hardback 1952 1st Edition
Book Weight: 865g
Book Type:
Politics
ISBN n/a
Delivered Price
| | | |
| --- | --- | --- |
| Post and Packing to within IRELAND(incl NI) | Postage Cost €7.50 | Total Cost €16.50 |
| Post and Packing to Great Britain | Postage Cost €12.50 | Total Cost €21.50 |
| Post and Packing to EUROPE | Postage Cost €14.50 | Total Cost €23.50 |
| Post and Packing to Australia + New Zealand | Postage Cost €27.00 | Total Cost €36.00 |
| Post and Packing to Rest of the World | Postage Cost €21.00 | Total Cost €30.00 |

To Buy Now click on required destination field from drop-down menu below and then click on 'Add to Cart'