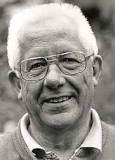 Vitus B Droscher was born on October 15, 1925 in Leipzig in Germany and died on November 9, 2010. Droscher studied zoology and psychology and made many trips to faraway places to study animal behaviour in the wild. Magic of the Senses reveals very many of his discoveries throughout his career.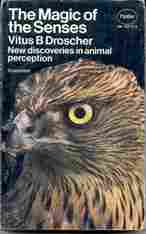 Book Review:
Vitus B Droscher - Magic of the Senses
A dog`s sense of smell is one million times more sensitive than a man`s.
The sonar equipment of bats and moths makes man`s most accurate scientific equipment look primitive.
These and many more startling animal facts are featured here. This book features facts about wild animals that will startle you.

Book Condition:
Some wear to covers otherwise Good Copy
Panther Paperback 1971 Reprint
Book Weight: 230g
Book Type:
Nature


Buy Now for €2.00 + Post and Packing Using Paypal as a safe and secure method of payment
Delivered Price
| | | |
| --- | --- | --- |
| Post and Packing to within IRELAND(incl NI) | Postage Cost €6.20 | Total Cost €8.20 |
| Post and Packing to Great Britain | Postage Cost €9.00 | Total Cost €11.00 |
| Post and Packing to EUROPE | Postage Cost €11.00 | Total Cost €13.00 |
| Post and Packing to Australia/New Zealand | Postage Cost €22.50 | Total Cost €24.50 |
| Post and Packing to Rest of the World | Postage Cost €15.00 | Total Cost €17.00 |

To Buy Now click on required destination field from drop-down menu below and then click on 'Add to Cart'