Delivered Price
| | | |
| --- | --- | --- |
| Post and Packing to within IRELAND(incl NI) | Postage Cost €6.20 | Total Cost €8.20 |
| Post and Packing to Great Britain | Postage Cost €9.00 | Total Cost €11.00 |
| Post and Packing to Europe | Postage Cost €11.00 | Total Cost €13.00 |
| Post and Packing to Australia/New Zealand/South America | Postage Cost €22.50 | Total Cost €24.50 |
| Post and Packing to Rest of the World | Postage Cost €15.00 | Total Cost €17.00 |

To Buy Now click on required destination field from drop-down menu below and then click on 'Add to Cart'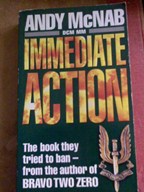 Book Review:

Andy McNab - Immediate Action

Immediate Action is a no holds barred account of an extraordinary life.
From the day McNab was found in a carrier bag on the steps of Guy`s Hospital to the day he went to fight in the Gulf War.
Book Condition:
Slight wear to covers otherwise Good Copy.
Corgi Paperback 1996 Reprint
Book Weight: 265g
Book Type: Military History
ISBN 055214276
Delivered Price
| | | |
| --- | --- | --- |
| Post and Packing to within IRELAND(incl NI) | Postage Cost €6.20 | Total Cost €8.20 |
| Post and Packing to Great Britain | Postage Cost €9.00 | Total Cost €11.00 |
| Post and Packing to Europe | Postage Cost €11.00 | Total Cost €13.00 |
| Post and Packing to Australia/New Zealand/South America | Postage Cost €22.50 | Total Cost €24.50 |
| Post and Packing to Rest of the World | Postage Cost €15.00 | Total Cost €17.00 |

To Buy Now click on required destination field from drop-down menu below and then click on 'Add to Cart'