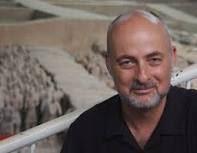 David Brin was born on October 6, 1950 in Glendale, California, USA. Infinity's Shore is the fifth and last of the Uplift series.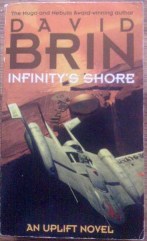 Book Review:
David Brin - Infinity's Shore
The six exiled races of Jijo have lived with relative peace for two thousand years. There was always the fear of them being discovered by Galactic authorities. Now it has happened.
Book Condition:
Slight wear to covers otherwise Good Copy
Orbit Paperback 1998 Reprint
Book Weight: 380g
ISBN 1857235657
Book Type:
Science Fiction Series: Uplift #5
Delivered Price
| | | |
| --- | --- | --- |
| Post and Packing to within IRELAND(incl NI) | Postage Cost €6.20 | Total Cost €8.20 |
| Post and Packing to Great Britain | Postage Cost €9.00 | Total Cost €11.00 |
| Post and Packing to EUROPE | Postage Cost €11.00 | Total Cost €13.00 |
| Post and Packing to Australia/New Zealand | Postage Cost €22.50 | Total Cost €24.50 |
| Post and Packing to Rest of the World | Postage Cost €15.00 | Total Cost €17.00 |

To Buy Now click on required destination field from drop-down menu below and then click on 'Add to Cart'