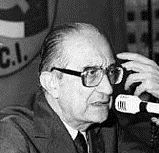 G C Argan was born in May 1909 in Turin and died in November,1992, in Rome.
Argan was an Art Critic, a politician and a professor.
Renaissance
is his view of the history of the Renaissance

Book Review:
G C Argan - Renaissance
This book has a general account of painting during the Renaissance period relating to its historical and social background.

Book Condition:
Some wear to covers and slight warping otherwise Good Copy
Thames and Hudson Paperback 1969
Book Weight: 310g
ISBN n/a
Book Type:
Art



Buy Now for €3.95 + Post and Packing Using Paypal as a safe and secure method of payment
Delivered Price
| | | |
| --- | --- | --- |
| Post and Packing to within IRELAND(incl NI) | Postage Cost €6.20 | Total Cost €10.15 |
| Post and Packing to Great Britain | Postage Cost €9.00 | Total Cost €12.95 |
| Post and Packing to EUROPE | Postage Cost €11.00 | Total Cost €14.95 |
| Post and Packing to Australia/New Zealand | Postage Cost €22.50 | Total Cost €26.45 |
| Post and Packing to Rest of the World | Postage Cost €15.00 | Total Cost €18.95 |

To Buy Now click on required destination field from drop-down menu below and then click on 'Add to Cart'