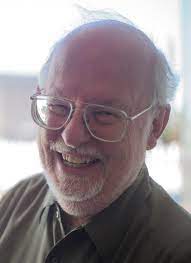 Greg Bear is an American novelist known mainly for his science fiction novels. Greg Bear was born in San Diego, California, United States on August 20, 1951. He has been the recipient of the Hugo and Nebula Awards on numerous occasions as well as nominations for many other awards.
Dead Lines
is a macabre story of sinister messages passed over the phone by dead people.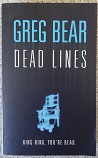 Book Review:
Greg Bear - Dead Lines
Peter Russell is haunted by his murdered daughter through his telephone.
Book Condition:
In Very Good Condition
HarperCollins Paperback 2004
Book Weight: 165g
ISBN 0007129777
Book Type:
Science Fiction, Thriller
Delivered Price
| | | |
| --- | --- | --- |
| Post and Packing to within IRELAND(incl NI) | Postage Cost €2.60 | Total Cost €5.35 |
| Post and Packing to Great Britain | Postage Cost €5.00 | Total Cost €7.75 |
| Post and Packing to EUROPE | Postage Cost €5.50 | Total Cost €8.25 |
| Post and Packing to Australia/New Zealand | Postage Cost €9.00 | Total Cost €11.75 |
| Post and Packing to Rest of the World | Postage Cost €8.00 | Total Cost €10.75 |

To Buy Now click on required destination field from drop-down menu below and then click on 'Add to Cart'