Guy de Maupassant was born on August 5, 1850 and died on July 6, 1893. de Maupassant is known for his short stories, of which he wrote around 300 in his short life.
The Dark Side
is a selection of them which shows the terror by Guy de Maupassant in his short stories.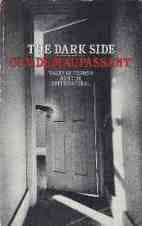 Book Review:
Guy de Maupassant - The Dark Side
Brilliantly depicting the supernatural terror of the incomprehensible in these thirty-one stories.
Book Condition:
Slight wear to covers otherwise Good Copy
Cardinal Paperback 1990
Book Weight: 240g
ISBN 0747406189
Book Type:
Short Stories

Buy Now for €2.00 + Post and Packing Using Paypal as a safe and secure method of payment
Delivered Price
| | | |
| --- | --- | --- |
| Post and Packing to within IRELAND(incl NI) | Postage Cost €6.20 | Total Cost €8.20 |
| Post and Packing to Great Britain | Postage Cost €9.00 | Total Cost €11.00 |
| Post and Packing to EUROPE | Postage Cost €11.00 | Total Cost €13.00 |
| Post and Packing to Australia/New Zealand | Postage Cost €22.50 | Total Cost €24.50 |
| Post and Packing to Rest of the World | Postage Cost €15.00 | Total Cost €17.00 |

To Buy Now click on required destination field from drop-down menu below and then click on 'Add to Cart'