Nat Shapiro and Nat Hentoff was deputy publisher of Picador until 2008. Nat Shapiro was an American music critic and a record producer. Shapiro produced Nina Simone and Phil Woods among others. From producing he moved on to promotional work, most notably with Mercury Records. Shapiro co-edited two books on jazz, Hear Me Talkin To Ya and The Jazz Makers, both considered classics.
Nat Hentoff is an American music critic, as well as being a historian, a novelist and many other occupations besides. Hentoff was a columnist and then associate editor of Down Beat, a magazine devoted to Jazz, Blues and beyond. Besides the collabboration with Nat Shapiro, Hentoff produced many other books on jazz.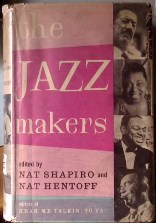 Book Review:
Nat Shapiro and Nat Hentoff The Jazz Makers
The lives and stories of 21 jazzmakers who have infuenced jazz and encouraged many to follow in their footsteps.
6 pages of photographs. Warren 'Baby' Dodds, Jelly Roll Morton, Jack Teagarden, Louis Armstrong, Bix Beiderbecke, Earl Hines, Pete Wee Russell, Bessie Smith, Thomas 'Fats' Waller, Art Tatum, Coleman Hawkins, Benny Goodman, Duke Ellington, Charlie Parker and Friends, Fletcher Henderson, William 'Count' Basie, Billie Holiday, Lester Young, Charlie Christian, Roy Eldridge and John 'Dizzy' Gillespie.
Book Condition:
Ex Library with wear to covers and edges Reading Copy
Peter Davies Hardback 1958
Book Weight: 520g
Book Type:
Music Book/Biography
ISBN N/A

Buy Now for €3.95 + Post and Packing Using Paypal as a safe and secure method of payment
Delivered Price
| | | |
| --- | --- | --- |
| Post and Packing to within IRELAND(incl NI) | Postage Cost €7.50 | Total Cost €11.45 |
| Post and Packing to Great Britain | Postage Cost €12.50 | Total Cost €16.45 |
| Post and Packing to EUROPE | Postage Cost €14.50 | Total Cost €18.45 |
| Post and Packing to Australia + New Zealand | Postage Cost €27.00 | Total Cost €30.95 |
| Post and Packing to the Rest of the World | Postage Cost €21.00 | Total Cost €24.95 |

To Buy Now click on required destination field from drop-down menu below and then click on 'Add to Cart'