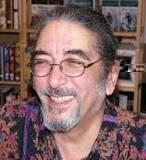 Robert Lynn Asprin was a writer of science fiction and fantasy fiction Asprin was born in St Johns, Michigan on June 28, 1946 and died on May 22, 2008. He was a productive writer, apart from a 10 year gap. Due to a mixture of personal problems and financial difficulties, Asprin stopped writing for most of the nineties. Asprin was a dedicated SciFi and Fantasy fan and was involved in fan clubs and events that sprouted up in the seventies.
Little Myth Marker
is the sixth of his Myth series.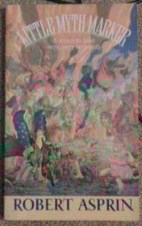 Book Review:
Robert Asprin - Little Myth Marker
Skeeve has a fun life, apart from little diversions.
Such as the mob wanting him married and the magicians wanting him dead.
Book Condition:
Good Clean Copy
Legend Paperback 1991 Reprint
Book Weight: 105g
ISBN 0099745305
Book Type:
Fantasy Fiction


Delivered Price
| | | |
| --- | --- | --- |
| Post and Packing to within IRELAND(incl NI) | Postage Cost €2.60 | Total Cost €4.10 |
| Post and Packing to Great Britain | Postage Cost €5.00 | Total Cost €6.50 |
| Post and Packing to EUROPE | Postage Cost €5.50 | Total Cost €6.00 |
| Post and Packing to Australia/New Zealand | Postage Cost €9.00 | Total Cost €10.50 |
| Post and Packing to the Rest of the World | Postage Cost €8.00 | Total Cost €9.50 |

To Buy Now click on required destination field from drop-down menu below and then click on 'Add to Cart'