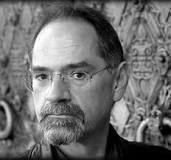 Stephen Lawhead was born in Nebraska, USA on July 2, 1950. Stephen Lawhead is an American author known for his fantasy, science fiction and historical fiction novels. Particularly popular are his Pendragon and Dragon King series. The Sword and the Flame is the third book in the Dragon King series.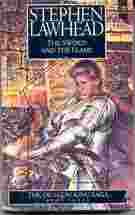 Book Review:
Stephen Lawhead - The Sword and the FlameThe Dragon King`s son has been kidnapped, his most trusted councsellor killed, and the Necromancer Nimrood has returned.
Grief-striken and despairing, Quentin faces his severest test. And more than a kingdom hangs in the balance.
Book Condition:
Very Slight wear to covers otherwise Very Good Copy
Vintage Paperback 2003 Reprint
Book Weight: 425g
ISBN 0856488755
Book Type:
Fantasy Fiction Series: Dragon King #3
Delivered Price
| | | |
| --- | --- | --- |
| Post and Packing to within IRELAND(incl NI) | Postage Cost €6.20 | Total Cost €8.20 |
| Post and Packing to Great Britain | Postage Cost €9.00 | Total Cost €11.00 |
| Post and Packing to EUROPE | Postage Cost €11.00 | Total Cost €13.00 |
| Post and Packing to Australia/New Zealand | Postage Cost €22.50 | Total Cost €24.50 |
| Post and Packing to Rest of the World | Postage Cost €15.00 | Total Cost €17.00 |

To Buy Now click on required destination field from drop-down menu below and then click on 'Add to Cart'