Delivered Price
Click on the link to check your Destination Zone

To Buy Now click on required destination field from drop-down menu below and then click on 'Add to Cart'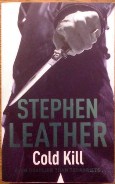 Book Review:
Stephen Leather - Cold Kill
Dan 'Spider' Shepherd is accostomed to people-smuggling, counterfeiters and murders.
But when Dan checks out what he supposed was a routine crime and finds terrorist activity of a most dangerous kind he knows he is in for an unusual day.
Book Condition:
Very Good Copy
Hodder Paperback 2006
Book Weight: 285g
Book Type:
Thriller Series: Spider Shepherd #3
ISBN 0340834129
Delivered Price
Click on the link to check your Destination Zone

To Buy Now click on required destination field from drop-down menu below and then click on 'Add to Cart'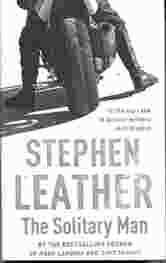 Book Review:
Stephen Leather - The Solitary Man
Imprisoned for a crime he didn`t commit, Hutch escapes from a British maximum security prison and starts a new life in Hong Kong.
Then a ghost from his past catches up with him, forcing him to help a former terrorist break out of Bangkok prison.
Or face life behind bars once more.

Book Condition:
Slight wear to covers otherwise Good Copy
Hodder Paperback 1997 Reprint
Book Weight: 315g
Book Type:
Thriller
ISBN 0340628375
Delivered Price
Click on the link to check your Destination Zone

To Buy Now click on required destination field from drop-down menu below and then click on 'Add to Cart'