Tennessee Williams was an American playwright who was born in Columbus, Mississippi on March 26, 1911 and died on February 25, 1983. Tennessee Williams is probably one of the most widely known playwrights worldwide for his plays, such as Cat on a Hot Tin Roof, The Glass Menagerie and A Streetcar Named Desire.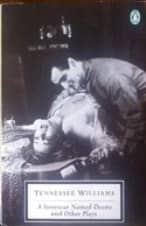 Book Review:
Tennessee Williams - A Streetcar Named Desire and Other Plays
Three of Williams' best known plays in which the underdog is championed against the world. Also feature Sweet Bird of Youth and In the Glass Menagerie.

Book Condition:
Some wear to covers otherwise Good Copy
Penguin Paperback 1962 Reprint
Book Weight: 215g
ISBN 014018385X
Book Type:
Drama


Buy Now for €2.00 + Post and Packing Using Paypal as a safe and secure method of payment
Delivered Price
| | | |
| --- | --- | --- |
| Post and Packing to within IRELAND(incl NI) | Postage Cost €4.80 | Total Cost €6.80 |
| Post and Packing to Great Britain | Postage Cost €8.00 | Total Cost €10.00 |
| Post and Packing to EUROPE | Postage Cost €9.00 | Total Cost €11.00 |
| Post and Packing to Australia/New Zealand | Postage Cost €18.00 | Total Cost €20.00 |
| Post and Packing to Rest of the World | Postage Cost €12.00 | Total Cost €14.00 |

To Buy Now click on required destination field from drop-down menu below and then click on 'Add to Cart'