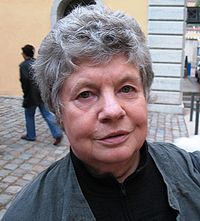 A S Byatt was born Antonia Susan Drabble on the 24th August, 1936 in Sheffield, United Kingdom. A S Byatt is the sister of
Margaret Drabble
She won the Man Booker Prize in 2008 for Possession: A Romance.
Still Life
is the second part of her 'Frederica' quartet. winning the PEN/Macmillan Silver Pen Award in 1989.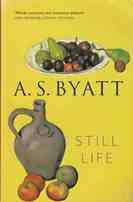 Book Review:
A S Byatt - Still Life
Frederica Potter goes to Cambridge University hoping to experience all that life can give her.
Her sister settles for a life of domesticity.
Book Condition:
Very Slight wear to covers otherwise Very Good Copy
Vintage Paperback 2003 Reprint
Book Weight: 425g
ISBN 9780099479918
Book Type:
Fiction

Buy Now for €2.00 + Post and Packing Using Paypal as a safe and secure method of payment
Delivered Price
| | | |
| --- | --- | --- |
| Post and Packing to within IRELAND(incl NI) | Postage Cost €6.20 | Total Cost €8.20 |
| Post and Packing to Great Britain | Postage Cost €9.00 | Total Cost €11.00 |
| Post and Packing to EUROPE | Postage Cost €11.00 | Total Cost €13.00 |
| Post and Packing to Australia/New Zealand | Postage Cost €22.50 | Total Cost €24.50 |
| Post and Packing to Rest of the World | Postage Cost €15.00 | Total Cost €17.00 |

To Buy Now click on required destination field from drop-down menu below and then click on 'Add to Cart'