David Beresford was a journalist for The Guardian. David Beresford died on April 22, 2016 in Johannesburg, South Africa. Beresford reported from Northern Ireland during the Troubles, particularly during the hunger strikes. He was to publish a book on this issue in his own write, Ten Men Dead Beresford went on to work in South Africa in the period after apartheid and in this scenario he was also pulling no punches, regarding the 'Richard, Richard' scandal.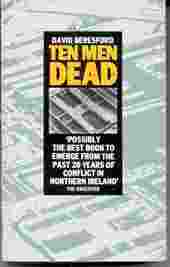 Book Review:
David Beresford - Ten Men Dead
The story of the 1981 Irish Hunger Strike, a very important time in Irish history.
Book Condition:
Some wear to covers and inscriptions inside cover otherwise Good Copy
HarperCollins Paperback 1994 Reprint
Book Weight: 243g
ISBN 0586065334
Book Type:
Irish Interest

Buy Now for €2.00 + Post and Packing Using Paypal as a safe and secure method of payment
Delivered Price
| | | |
| --- | --- | --- |
| Post and Packing to within IRELAND(incl NI) | Postage Cost €6.20 | Total Cost €8.20 |
| Post and Packing to Great Britain | Postage Cost €9.00 | Total Cost €11.00 |
| Post and Packing to EUROPE | Postage Cost €11.00 | Total Cost €13.00 |
| Post and Packing to Australia/New Zealand | Postage Cost €22.50 | Total Cost €24.50 |
| Post and Packing to Rest of the World | Postage Cost €15.00 | Total Cost €17.00 |

To Buy Now click on required destination field from drop-down menu below and then click on 'Add to Cart'