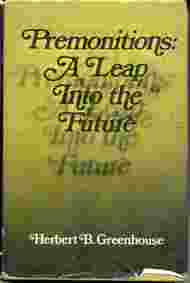 Book Review:
Herbert B Greenhouse - Premonitions
More than two hundred people had premonitions of the avalanche of slag that took the lives of 144 people in Aberfan in 1966.
Fourteen years before the sinking of the Titanic a novelist told the story in almost perfect detail. He called the ship the Titan.
These and more incidents are features in this book which catalogues many examples of disasters being foretold.

Book Condition:
Good in worn and slightly torn Dw
Turnstone Hardback 1972 Reprint
Book Weight: 670g
Book Type:
Paranormal, Unexplained
ISBN 0855000023



Buy Now for €5.00 + Post and Packing Using Paypal as a safe and secure method of payment
Delivered Price
| | | |
| --- | --- | --- |
| Post and Packing to within IRELAND(incl NI) | Postage Cost €7.50 | Total Cost €12.50 |
| Post and Packing to Great Britain | Postage Cost €12.50 | Total Cost €17.50 |
| Post and Packing to EUROPE | Postage Cost €14.50 | Total Cost €19.50 |
| Post and Packing to Australia/New Zealand | Postage Cost €27.00 | Total Cost €32.00 |
| Post and Packing to Rest of the World | Postage Cost €21.00 | Total Cost €26.00 |

To Buy Now click on required destination field from drop-down menu below and then click on 'Add to Cart'