Margaret Atwood was born in Ottawa, Canada on November 18, 1939. Atwood is a poet, science fiction writer, novelist, literary critic and environmental activist. She has been shortlisted for the Booker Prize on five occasions. Atwood won the Booker prize in 2000 with The Blind Assassin. In 1987, Atwood was named Humanist of the Year by the American Humanist Association. The Handmaid's Tale won the first Arthur C Clarke Award in 1987, although Atwood would rather call her book 'speculative fiction'. She argues that the difference between science fiction and speculative fiction is that 'science fiction has monsters and spaceships, speculative fiction could really happen' Philip K Dick would go further and say that science fiction is about things that 'could happen' and that 'monsters etc' could be consigned to adventure stories. Miriam Allen deFord puts it succinctly when she says "Science Fiction deals with improbable possibilities, fantasy with plausible impossibilities". Atwood has compiled the New Oxford Book of Canadian Verse in English (1983). Margaret Atwood has received many honorary degrees including Doctor of Literature from the National University of Ireland, Galway, the Royal Military College of Canada, as well as Oxford University, Cambridge University and the Sorbonne.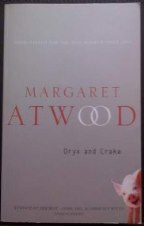 Book Review:
Margaret Atwood - Oryx and Crake
The dual worlds of magic and science are threatened by a trrifying species of beings. Only two special children- Nepe and Flach, will dare to fight back, by befriending the enemy.
Book Condition:
Some creasing and wear to covers and buckling Good Reader
Ace Paperback 1991 Reprint
Book Weight: 184g
Book Type:
Science Fiction Novel
ISBN 0441662633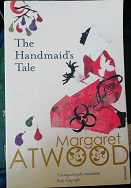 Book Review:
Margaret Atwood - The Handmaid's Tale
Offred is allowed only one function to breed.
If she strays outside the law she will be hanged or left out to die of radiation sickness. But she is desireous of difference and is willing to take the chance.
Book Condition:
Vintage Paperback 1996 Reprint In Good Condition 240g
Book Weight: 240g
Book Type:
Science Fiction Novel
ISBN 9780099740919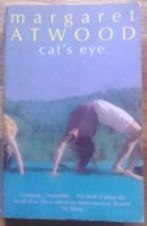 Book Review:
Margaret Atwood - Cat's Eye
Elaine Risley returns to Toronto to find herself overwhealmed by her past.
Memories of her childhood resurface unrelentlessly forcing her to confront her adversaries.
Book Condition:
Slight wear to covers otherwise Good Copy 355g
Virago Paperback 2000 Reprint
Book Weight: 355g
Book Type:
Fiction Novel
ISBN18 53811262