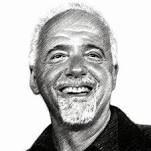 Paulo Coelho was born in Rio de Janeiro, Brazil on August 24, 1947.
Paulo Coelho had wanted to be a writer from an early age, but his parents had other ideas.
His parents were disillusioned at their son's disregard for traditional ways of living.
He was incarcerated in a mental institution from the age of 17 and released only when he was 20.
Paulo Coelho spent a number of years as a hippie, taking drugs and living a nomadic life.
He returned to Brazil and became a songwriter, writing songs for Brazilian singers, Elis Regina, Rita Lee and Raul Seixas.
This made him wealthy but he was not living his dream so he packed in the songwriting to become a full-time writer.
The Alchemist is one of the biggest selling books of all time, selling more than 65 million copies.
He also has a very large following on Facebook(25 million), and Twitter(10 million).