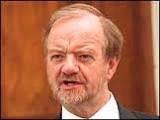 Robin Cook was born on February 28, 1946 and died on August 6, 2005. Cook was a Labour MP who rose to the position of Foreign Secretary from 1997 until 2001. His book
Point of Departure
details the events leading up to the Iraq War. Robin Cook died from a heart attack while on holiday in the Scottish Highlands on August 6, 2005.

Book Review:
Robin Cook - Point of Departure
This is an unvarnished, behind the scenes account of the run up to
the Iraq War as seen by one of Britain`s foremost politicians.
Robin Cook was Leader of the House of Commons on March 17 2003 when he resigned from the Cabinet in protest at the oncoming war.
Book Condition:
Some wear to covers and browning to edges otherwise Good Reader
Pocket Paperback 2004 Reprint
Book Weight: 288g
ISBN 0743483774
Book Type:
Politics


Buy Now for €2.00 + Post and Packing Using Paypal as a safe and secure method of payment
Delivered Price
| | | |
| --- | --- | --- |
| Post and Packing to within IRELAND(incl NI) | Postage Cost €6.20 | Total Cost €8.20 |
| Post and Packing to Great Britain | Postage Cost €9.00 | Total Cost €11.00 |
| Post and Packing to EUROPE | Postage Cost €11.00 | Total Cost €13.00 |
| Post and Packing to Australia/New Zealand | Postage Cost €22.50 | Total Cost €24.50 |
| Post and Packing to Rest of the World | Postage Cost €15.00 | Total Cost €17.00 |

To Buy Now click on required destination field from drop-down menu below and then click on 'Add to Cart'