Timothy Good was born on July 28, 1942 in Islington, London UK.
Timothy Good is an author of books about Unidentified Flying Objects (UFO'S).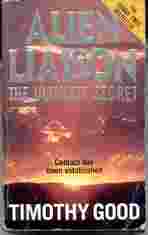 Book Review:
Timothy Good Alien Liaison
In Above Top Secret Timothy Good documented the systematic cover up of information about UFO`s by the intelligence communities of the world. Now he reveals the hard evidence of extraterrestial visitation.
Book Condition:
Some wear to covers otherwise Good Copy
Arrow Paperback 1992 Reprint
Book Weight: 156g
ISBN-0099859203
Book Type:
Unexplained Phenomenon

Buy Now for €2.00 + Post and Packing Using Paypal as a safe and secure method of payment
Delivered Price
| | | |
| --- | --- | --- |
| Post and Packing to within IRELAND(incl NI) | Postage Cost €2.60 | Total Cost €5.55 |
| Post and Packing to Great Britain | Postage Cost €5.00 | Total Cost €7.95 |
| Post and Packing to EUROPE | Postage Cost €5.50 | Total Cost €8.45 |
| Post and Packing to Australia + New Zealand | Postage Cost €9.00 | Total Cost €11.95 |
| Post and Packing to the Rest of the World | Postage Cost €8.00 | Total Cost €10.95 |

To Buy Now click on required destination field from drop-down menu below and then click on 'Add to Cart'